Routine Exams for Cats & Dogs
Our veterinary team in Lethbridge strongly encourage our clients to bring their pets in for regularly scheduled routine wellness exams in order to ensure their pets live long, healthy and happy lives. 
The Importance of Preventive Care
Routine wellness exams are key in preventing diseases and helping your pet to maintain their long-term wellbeing and overall health. 
When combined with regularly administered vaccinations and parasite prevention as well as nutritional consultations, these routine examinations allow our team to create a personal health plan for your pet's needs.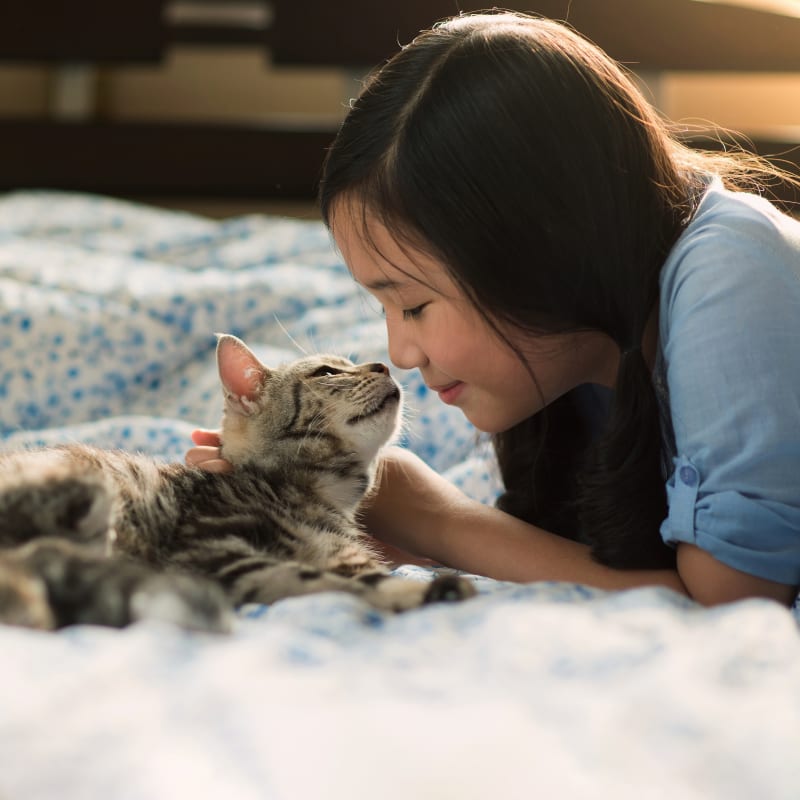 What to Expect During Your Pet's Physical
Your pet will need to attend a physical examination at least once per year. This gives us a full picture of your pets health. An exam includes these elements:
General Condition
Our team conducts a thorough history and examination from head to tail.
Coat & Skin
Health issues may show up in your pet's skin and coat as lumps, bumps, dryness, excessive oiliness, shedding, abnormal hair loss or dandruff. 
Face & Head
We will examine your pet's health. We will examine their nose, ears, eyes and mouth for any abnormalities. 
Internal Health
Your pet's heart health is highly influenced by their blood pressure, pulse, heart rhythm, heart rate and lung function.
During the exam, we will check lymph nodes, intestines, stomach, spleen, bladder, liver and kidneys to ensure they are normal and your companion isn't showing any signs of discomfort.
Puppies & Kittens
In their first few weeks of life, puppies and kittens will need medical attention to start their lives on the right foot.
Bring your new four-legged family member in for deworming medication, immunizations and a physical examination. They will also be tested for parasites. You will be given a puppy or kitten kit filled with educational material and samples to help you care for your family's newest member. 
We are here to answer questions you might have and put any worries to rest. Once your pet has had his or her first appointment, your pet will be placed on a vaccination schedule.
Seniors
Our senior pets are living longer now than they ever have before thanks to advances in pet healthcare, nutrition and therapies. 
As your pet ages, regularly scheduled examinations become increasingly key to helping them live a good quality of life. 
Alongside the routine exams, we will give special attention to your senior pet. Our team will be on the lookout for age-related health issues such as impaired vision or arthritis. Additional laboratory tests will also yield more information about your pet's overall health.
Vaccinations & Prevention
Has your pet had their routine vaccination administered on time? Do they need preventative care? Our veterinarians will be sure to check in on these things during your routine wellness exams.